May 31, 2005
Everything you ever wanted to know about sports on TV.
At The Buzzer

News for the Intelligent Sports Fan
The celebrated winner of 15 Emmys for outstanding sports journalism returned on May 23rd for its 10th season. If 60 Minutes were a sports show, this would be it, as the formula for Real Sports with Bryant Gumbel very closely resembles that of the long-running news magazine.
There are more than box scores and numbers to crunch when following the stories that truly make this particular world revolve.
An impressively decorated stable of
reporters
lends an air of Ivy League credibility and Rhodes Scholar intelligence to the program. It feels at times as if I'm watching college professors tackling some of the more sensitive, interesting issues in sports. Only, unlike the stereotypical academic, these professors all come from a heralded background in the world of sports journalism. There are more than box scores and numbers to crunch when following the stories that truly make this particular world revolve.
At the outset, Gumbel narrates over opening credits that Real Sports aims to "challenge the hype and headlines in the world of sports," offering compelling, insightful, and, most importantly, socially relevant features and profiles that have the capability of branching out beyond everyday sports fans to just about anyone with a vested interest in society and a thirst to learn.
From the studio, Gumbel sets up each compiled segment, which will run about 13-14 minutes, before handing the reins over to the field reporters. Each piece aspires to go beyond any hidden troubles or fallacies that the public has all too readily accepted as truths. Yet each report is objectively crafted.
The four pieces featured in the 10th season premiere included a portrait on the race horse "Storm Cat (himself descended from the legendary Secretariat)," who was put out to stud after a middling racing career in the '80s and has since sired several impressive and dominant thoroughbreds in the world of horse racing. He now commands a sire fee of $500,000 and when multiplied by the number of times he is put to work in a week, he ranks behind only Shaquille O'Neal and Alex Rodriguez in annual sports salaries. As has been detailed in this column before, I don't much care for horse racing, though this piece is compelling, as Bernard Goldberg takes an in-depth look into the science and lucrative sexcapades of that world.
In the second feature, Armen Keteyian examines the unstoppable phenomenon that is the youth poker movement and how, ever since poker gained mass exposure three years ago thanks to the Travel Channel's highly rated and immensely popular World Poker Tour, the number of "professional poker players" has risen in this country and interest among youths ages 12-15 has grown at an astounding rate. Through a series of interviews with a Princeton grad turned poker player, parents who endorse their children playing poker as a social activity among friends, and a mindful professor who warns that this current boom in Texas Hold 'Em could have disastrous effects 15 years down the road with an increase in gambling addiction, Keteyian makes sure to present the story from a sort of anthropological standpoint, rather than one of an everyday sports fan.
In the third piece, Frank DeFord profiles Wally Backman, who holds the shortest-ever tenure as a baseball manager — four days — after dubious reports of a DUI and domestic violence surfaced from his past. Backman, with DeFord's help, clears his name for the most part, yet the piece straddles the line of objectivity when interviewing the Arizona Diamondbacks about Wally and receiving a fairly different tale of how they were forced to jettison Backman due to pressure from an image-conscious sports world.
Perhaps the best thing about each segment is that the reporters for each respective piece appear in-studio as a sort of interlude between pieces for a follow-up question-and-answer session between themselves and Gumbel. The questions, surprisingly enough, are not necessarily softballs and offer a chance for the journalists to button up any loose ends or further elaborate on key points from their pieces. For example, Gumbel and Keteyian further discussed the possible impact the poker boom might have on gambling addiction while making sure to distinguish it as a game centered on gambling as opposed to a sport. Frank DeFord offered sympathy and an endorsement of Wally Backman, yet acknowledged that no matter how unfair the circumstances, it will be incredibly hard for him to ever get another job in baseball so long as his former employer asserts (correctly from their standpoint) that Backman is an alcoholic.
The final piece is reserved for Gumbel himself. He revisits Kermit Washington, a basketball player from the '70s and '80s who was unofficially designated by the NBA as a pariah for executing "The Punch," and covers his attempts to infiltrate basketball's coaching fraternity while seeking redemption from the basketball world.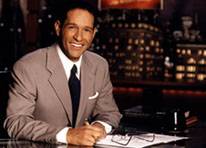 Finally, before closing out the program, Gumbel sits at his anchor desk and turns his body to the camera for a minute-long editorial on an Episode that has arisen too recently for a fully produced segment to be made. In this instance, Gumbel chastised Washington and the Bush administration for shamefully covering up the death of football player turned Army Ranger Pat Tillman as a result of friendly fire, claiming instead that he was killed in action while defending his country. Tillman's family insists that Pat's death was used by Washington to artificially drum up support for the war, a cowardly maneuver employed to strengthen their position on the polarizing conflict in Iraq. As you can plainly see, this is hardly an Episode bound to the sporting world.
The hour-long format of the show is maximized for content (Thank you, HBO, for no commercial interruptions -- I love you) and is especially refreshing in this day and age when the most popular sports news programs tend to emulate ESPN's frenetic, tightly-strung Pardon The Interruption, popular for its 30-second rants that only scrape the surface of myriad current headlines. The more subdued, analytical pace of Real Sports is far more conducive to anyone interested in hearing more than a fairly uninformed, instant opinion based on a cut-up sound byte or misleading headline. Real Sports with Bryant Gumbel might not just be the smartest show in sports television: It presents a strong argument for sharpest news magazine. Period.

Email the author.